Hello Bidders, We sold one of these here on ebay about 1 week ago. The buyer paid and all is well. As of now, this is the last one that we have left to sale. Don't miss out on a good deal with a great shipping price, if you need it shipped....!
BRAND NEW
2012
POLARIS
RZR 900 XP LE MODEL
JUST REMOVED FROM SHIPPING CRATE
10.0 out of 10.0 Rating!!!!!
LIQUID SILVER SPECIAL EDITION
INCLUDES FULL POLARIS FACTORY WARRANTY
$ MSRP $
$16,799 + ALL OF THE EXTRA "FEES" ADDED BY YOUR LOCAL DEALER!
NO EXTRA FEES AT OUR DEALERSHIP!!!!
Call for Buy it Now Price!
NO RESERVE
THE LAST BID OWNS IT!
AUCTION ENDS ON 10/24/2012!
Shipping in the United States ranges from $299 to $899.
Call for a competitive shipping quote!!
RANGER RZR XP™ 900 - Only Xtreme Performance
The 2012 RANGER RZR XP™ 900 is the only Xtreme Performance Side x Side out there. It totally dominates in the dunes and desert. With 88 HP, low center-of-gravity, 3-Link Trailing-Arm IRS with 14" of suspension travel and 13" of ground clearance, nothing else can touch it.
Hello Ladies and Gentlemen, We have a Brand New 2012 Polaris RZR 900XP LE (Liquid Silver) Model up for auction. We are liquidating some polaris inventory, we started with 20 of these and are down to about 8 of them. This New 2012 RZR 900 XP LE Model is brand new with full polaris factory warranty, it's probably being pulled out of the crate and prepped as you read this message...... We are going to sell it to the Highest bidder, with no reserve on the sales price. This Polaris RZR is the Hottest selling side by side on the UTV Market. We have over 500 accessories for this RZR available. Take a look at some of the sale prices below and read the reviews by RZR owners!!! If you puchase this RZR from us and want some accessories installed, the Installation is absolutely free!!!! NO CHARGE on the install, just pay our discounted price for the accessories. One of these 900 RZR XP LE Models will run you about $18,500 by the time you get out of the dealership with all of the misc. fees!!!!! Not with us, we sell for a much lower price, and to put the icing on the cake, we DO NOT CHARGE ANY EXTRA FEES, YOUR BID OR BUY IT NOW PRICE IS ALL YOU PAY.........We are an ATV, UTV, and Motorcycle Dealer in Paducah, KY (Very West Kentucky). Shipping Ranges anywhere in the United States from $299 to $899. Call for a competitive shipping quote. (270) 442-4273. This Unit carries a Clear Factory Certificate of Origin (Title) and it is ready for transfer.
We are starting this RZR at $1.00 & The last bid will own this New RZR 900 XP LE. Keep in mind we do have the RZR for sale locally and reserve the right to end the auction early only due to a local or internet sale...... Take a look at our specs and notes on the 2012 Polaris RZR 900XP LE. Like I said above, this is not a showroom model that everyone and their brother has climbed in and out of, this is a brand new unit that was just pulled from the crate within the last couple of days. Call for Buy it Now price.
Limited Edition Features
- ITP Bajacross tires on 12" black Crusher aluminum rims
- White Lightning dash with black painted hood
- Custom two color cut & sew black and white seats with red RZR emblem
- Custom "Xtreme" graphics package
Polaris RZR Hardtop by Moose Utlity Division

This top installed for Only $107.95.
Polaris RZR Full Winsheild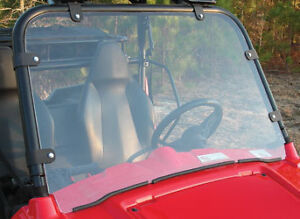 This Full Windsheild Installed for Only $199.95!!!!!
Call us if you have any accessory questions, we have awesome prices and free installation!!!
2012 Polaris Ranger RZR XP 900 LE Highlights
"Liquid Silver Edition"
- NEW! Front suspension geometry for easier steering.
- NEW! Anti-rattle passenger grab bar.
-NEW! ITP Bajacross Tires, Yep thats right, straight from the factory!!!!!
- NEW! Clicker knob on Fox Podium X 2.0 Shocks for tool-less compression adjustment.
- NEW! Redesigned front suspension geometry results in less steering effort, making maneuvering the RANGER RZR XP easier at slower speeds.
- Industry first factory LED headlights shine a high-intensity bright white beam to turn night into day, and throw light forward far beyond conventional halogens
- Comfortable operation is enhanced by tilt steering with a wide range of motion (10"), adjustable and interchangeable bucket seats, and an adjustable passenger handrail.
- Performance brake calipers and large diameter ventilated rotors on all four wheels provide the stopping power extreme sport riders need.
- NEW! Convenient compression adjustment knobs on the Fox 2.0 shocks for quick no-tool tuning.
- NEW! Passenger grab bar tube with anti-rattle bushing for reduced noise.
- Rear cargo box with 300-lb. capacity with lock & ride accessory system
- Passenger-side glove box has 3 gallons of space for convenient, water-resistant storage.
- Front drive cage made from billet aluminum for increased durability
- Thick skid plate for added durability.
- Excellent fit and finish in cockpit for reduced heat and dust in cab.
- Durable dual clutch inlet draws air in for low and high speed cooling.
- Side Nets designed for easy in-and-out access
- Certified Roll-Over Protective Structure (ROPS).
2012 Polaris Ranger RZR 900XP LE Features

NEW! 88 HP 900 TWIN EFI ENGINE
Specifically built for an extreme performance Side x Side. The Polaris ProStar™ 900 engine features industry-leading 88 HP, Dual OverHead Cams (DOHC), 4 large valves for high RPM power and 180 degree crank shaft for balanced performance. This delivers fast throttle response, groundbreaking power and revolutionary acceleration.



WHOLE NEW CLASS OF POWER TO WEIGHT
It's 29% quicker than the next closest competitor. This revolutionary acceleration is made possible by the 88 HP lightweight engine and total vehicle weight combined with big-time power to the ground. The result is loads of torque to all four wheels and unsurpassed off-road acceleration.



NEW! LIGHTWEIGHT, COMPACT TRANSMISSION
Specifically built to optimize power of the new Polaris ProStar™900 engine, its high-torque capacity delivers superior performance and handling. This means more power to the ground, less driveline noise and lighter weight. The innovative lightweight design features a helical cut final drive with optimized gear geometry to maximize efficiency.



NEW! 3-LINK TRAILING ARM LONG TRAVEL IRS
We designed the all-new 3-Link Trailing Arm IRS to handle all that power and keep the ride smooth. The 3-Link design consists of two extra-long radius rods and a far forward-connecting trailing arm resulting in a strong yet lightweight system.



NEW! NEVER-BEFORE-SEEN TRAVEL & GROUND CLEARANCE
The new 3-Link Trailing Arm IRS, paired with premium Fox Shocks, creates a monstrous 14" of terrain-absorbing rear travel. Match that with an astounding 13.5" of front travel and 13" of ground clearance and no comparison is required. Hands down, RANGER RZR XP owns the desert, the dunes and any wide open space.



PREMIUM SHOCKS WITH FRONT DUAL A-ARM SUSPENSION
Standard on all 4 corners are premium Fox Podium X 2.0 Shocks with piggy-back reservoirs - compression and preload adjustable. Pair that with Dual-A-Arm front suspension with 13.5" of travel and it soaks up the rough stuff and delivers a smooth, precise ride every time.



LOW CENTER OF GRAVITY
Even with 13" of ground clearance, RANGER RZR XP still has a class-leading low center of gravity for the ultimate ride through rough terrain. Its patented engine-behind-the-seat design and rear weight bias deliver extreme, razor-sharp agility and performance.



NEW! UNMATCHED CORNERING AGILITY
The new 3-Link race inspired rear suspension maximizes traction and power in corners and straightaways. Tires lean into the corner through the suspension travel, planting more tire surface on the ground to create positive tire camber for more control. The trailing arms also minimize wheel scrub for superior straightaway power, helping you stay true to your line.



ON-DEMAND TRUE ALL WHEEL DRIVE
True AWD gives you the ultimate grip to put that 88 HP to work in the corners, whoops and loose terrain. It's the easiest to use and fastest responding on-demand system, automatically engaging all four wheels when you need more forward traction and reverting back to 2WD when you don't. This means less wear and tear, easier steering, and maximizes power when you need it most.
2011 Polaris Ranger RZR 900XP - USA Specifications

ENGINE
Engine Type 4-Stroke DOHC Twin Cylinder
Displacement 875cc
88 Horsepower !!!!!
Fuel System Electronic Fuel Injection
Liquid Cooled
DRIVETRAIN
Transmission/Final Drive Automatic PVT P/R/N/L/H; Shaft
Drive System On-Demand True AWD/2WD

SUSPENSION
Front Suspension Dual A-Arm Fox Podium X 2.0 (comp adjust/res.) 13.5" (34.3 cm) Travel
Rear Suspension Trailing Arm Fox Podium X 2.0 (comp adjust/res.) 14" (35.6 cm) Travel

BRAKES
Front/Rear Brakes 4-Wheel Hydraulic Disc with Dual-Bore Front Calipers
Parking Brake Park in Transmission

TIRES/WHEELS
Front Tires / Model 27 x 9-12; ITP 900 XCT
Rear Tires / Model 27 x 11-12; ITP 900 XCT
Wheels Cast Aluminum

DIMENSIONS
Wheelbase 81.4" (206.8 cm)
Dry Weight 1,190 lbs. (539.8 kg)
Overall Vehicle Size (LxWxH) 108.4" x 64" x 73" (275.3 x 162.6 x 185.4 cm)
Ground Clearance 13" (33.0 cm)

CAPACITIES
Fuel Capacity 7.25 gal (27.4 L)
Bed Box Dimensions (LxWxH) 23 x 38 x 10" (58.4 x 96.5 x 25.4 cm)
Box Capacity N.A./300 lb (136.1 kg)
Payload Capacity 740 lb (335.6 kg)


FEATURES
Cargo System Lock & Ride
Lighting White LED, High/Low
Instrumentation Digital Gauge, Speedometer, Odometer, Tachometer, Tripmeter, Hour Meter, Clock, Gear Indicator, Fuel Gauge, Hi-Temp/Low-Batt Lights, Coolant Temp, DC Outlet
NOTICE
If you have less than 10 feedback, just joined ebay, or fairly new to ebay, please contact us prior or just shortly after placing a bid. It keeps all bidders fair and verifies that you are a legit bidder. You can reach us via phone or message through ebay to confirm your bidder status.
Canada & International Buyers
We sale to customers in the United States, Canada, and many other International Countries, If you are from Canada or any other Country please have your payment and shipping information arranged.
Payment Information
We accept Cash (In Person), Cashiers Check (Must Clear bank before unit leaves our property), Bank Wire Transfer, Visa, Mastercard, American Express, Discover and PayPal. $500 Non-Refundable deposit due within 48hrs of auction end.
Shipping Information
Many of our past customers have used UShip to transport their items that they've purchased from us. You can easily obtain a quote from UShip Online. We can assist in shipping and transportation within the United States. We are very reasonable on our shipping and transport rates. Please call or email if you need a shipping quote. We can handle all of the shipping for you. Generally speaking shipping from our door to yours is going to run around $299 to $899, depends on your location here in the United States. Please call for a shipping rate. You can also pick the unit up in person at our store!
Our Location
We are conviently located right off of Interstate 24 in Paducah, KY (Very Western Kentucky).. 2hrs. Northwest of Nashville, TN. We are located on the Illinois/Kentucky border. My Name is Dylan, I am the Sales Manager here at Chase Motorsports. I look forward to doing business with you. Contact me anytime with any questions, concerns, or if you want to get a great deal on a brand new 2012 Polaris RZR 900XP Liquid Silver Edition...
Contact Info
Chase Motorsports Inc.
1212 Brown Street
Paducah, KY 42003
(270) 556-8461 Cell
(270) 442-4273 Office